'The Prickly Pairs' have been at the coalface of the Irish music scene since the mid 1990s, all the while earning a reputation for reliability, enthusiasm and, above all, top-class entertainment. A Dublin-based covers band, we are 100% live 100% of the time. No backing tracks or drum machines required for this seven-piece outfit that prides itself on its full, brassy sound and tight vocal harmonies! With a repertoire that extends from Andy Williams to Robbie Williams to Pharrell Williams we appeal to every age group, ensuring that everyone has a great night dancing their feet off!
As one of Ireland's most sought-after wedding bands, 'The Prickly Pairs' have satisfied brides and grooms the length and breadth of the country to great acclaim. From Dublin to Durrow, Killarney to Kilkenny, Leitrim to Louth, we have left a trail of satisfied newlyweds in our wake. Y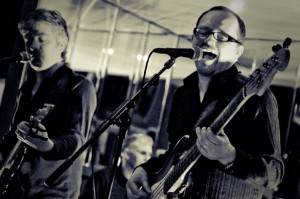 es, it's a dirty job but we love it!
As a corporate function band, 'The Prickly Pairs' have proven to be one of the most popular around. Over the years we have played for some of Ireland's biggest corporate events at some of the country's most prestigious venues. The band's professionalism and energy have ensured that we are in constant demand for award ceremonies, civic receptions and company occasions of all sorts throughout Ireland.
Between us, the seven members of the band have amassed a wealth of experience, performing both nationally and internationally over the past two decades. Such experience ensures that you always have peace of mind when booking 'The Prickly Pairs'. Our reputation for reliability and professionalism is clear from the many wonderful testimonials on this site.
If it's an excellent night's entertainment you'r looking for, from a band that covers a wide range of musical styles and genres to keep everyone on their feet, then look no further! There's no show like a 'Pairs' show!!